You may have heard about how bad black henna is. That it's full of chemicals and can scar your skin for life. It's true. There are black henna cones and products on the market that can badly blister your skin.
Before I started doing henna professionally, I went to a somalian wedding in Toronto. They recommended I get henna done as several other ladies were. So I decided to get my feet done for the wedding. Before I headed to the home of the henna artist they told me I had to go and buy some black henna dye which was really in fact black hair dye, Bigen. I had no idea how harmful this would be. My feet got henna'ed and they looked perfect. When my henna started to fade I began to notice raised, bumpy skin that I thought was athlete's foot. Then the puffy skinstarted to resemble the henna design I'd had done, but how so? I had the henna done weeks ago? Could this really be an allergic reaction? Yes! It was an allergic reaction. I was lucky I wasn't scarred for life. I was one of the lucky ones that my skin returned back to normal. That was definitely the last time I would ever get black henna.
What I learned was that all allergic reactions don't necessarily happen right away. It can happen even weeks later or it can develop over time.
The good news is that we now have a natural alternative to chemically based black henna. By replacing the liquids you usually use in your henna body art recipe with jagua juice, you can now create your very own black henna recipe.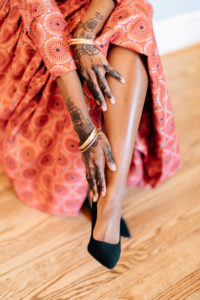 What you'll need to make Jagua Paste:
Tools:
stainless steel or glass bowl
measuring spoons
mixing spoon or spatula
hand blender or KitchenAid mixer (optional)
Mixing your henna with jagua juice is very easy to do. Watch our video for our step by step tutorial.